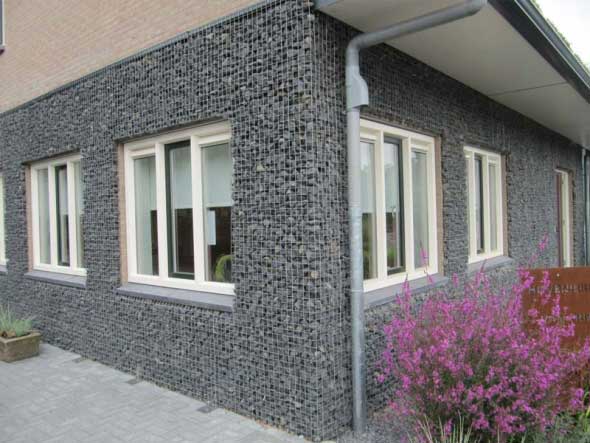 Description
FirmusFRONT panels can be filled with stone (average size 6-8 cm) and can also be used as a climbing net for creepers, resulting in a completely green wall of vegetation. Such creepers need to be planted in the ground. The result is a relatively cheap green wall which only requires time to provide full coverage.
FirmusFRONT is extremely well suited for applications where old, weathered and damaged walls need to be refurbished by covering them with new wall panels.
The panels enable a special, individual look to be achieved - to everyone's liking.
Product information
| | |
| --- | --- |
| Productinformation | |
| | |
| FirmusFRONT | |
| Dimensions: | 100 x 12,5 x 275 cm |
| Mesh aperture; | 50 x 50 mm |
| Wire diameter: | 5 mm |
| Wire material | Galfan wire (stainless steel) |
| | EN10244-2 "Class A" |
| Curves: | 2 right angles |
| Fasteners: | Available |